Utah Sewage Cleanup & Removal Services
Looking for local Utah sewage cleanup and removal experts? Call us today at (801) 416-2666 for reliable service and quality results—guaranteed.
The last thing you want to deal with is a plumbing disaster, with sewage and water flooding your home. Get help from unexpected emergencies with Utah Flood Cleanup. We are your reliable Utah sewage cleanup and removal team. You can count on us for fast turnarounds, long term solutions, and unparalleled customer service. Click here to read our latest customer reviews.
Why call us for your sewage cleanup in Utah?
Damage from overflowing sewage is an emergency. The elements in the waste and sewage pose as serious health risks. Because of the nature of sewage damage, any cleanup should be handled by a professional, whether the problem is inside or outside your home.
Contact us today at (801) 416-2666 and receive a complimentary phone consultation!
Utah Flood Cleanup is a team of customer advocates who prioritize your safety. Our technicians and professional staff are here around the clock to help you get through a severe home disaster. Our sewage cleanup solutions are the best in the business and are safe and reliable.
FREE phone consultation
FREE home inspection for insurance-covered water damage events
24/7 emergency assistance
5-year warranty on workmanship
Access to latest technology and sewage cleanup solutions
What kinds of polluted water can we help remove?
Below are examples of the types of contaminated water that can affect your home through faulty plumbing systems:
Gray water: This is also known as sullage and generally defined as wastewater. This is water that is generated from washed hands in face basins, showers, and baths, which is then recycled for secondary use (for example, toilet flushing, constructed wetlands, and landscape irrigation). Gray water can also include water discharge from dishwashers, laundry machines, and kitchen sinks.
Black water: More unsanitary than gray water, black water contains harmful bacteria and fungi. Black water generally comes from sources such as flushed toilets.
Clean water: This refers to water that has backed up, but does not pose an immediate or substantial threat to humans or animals. This type of backup originates from a tub or sink that accidently overflows, broken water lines, or water leaking from appliances. Without timely treatment, clean water can quickly develop into gray water or black water.
What are the benefits of professional sewage cleanup and removal services?
Your Utah Flood Cleanup experts have the tools and equipment to effectively eliminate the sewage backup problem. Our team has been specially trained and certified to extract sewage from outside or inside the home. Attempting to clean up a sewage problem on your own can lead to health issues from direct contact to the sewage or from prolonged exposure to the bacteria and other debris left behind.
Our specialists will safely remove and dispose of the sewage. This will not only ensure the safety of those in your home, but it will also ensure that others don't come in contact with the waste. We will make sure that all property infected by the sewage leak is properly treated. This includes bedding, furniture, and any additional items that may have been in contact with the contaminated water.
Using a professional sewage cleanup service will provide the peace of mind that allows you and your family to feel safe and confident when you return to your home.
Is your home suffering from severe sewage backup? Get professional sewage cleanup and removal services when you call today at (801) 416-2666.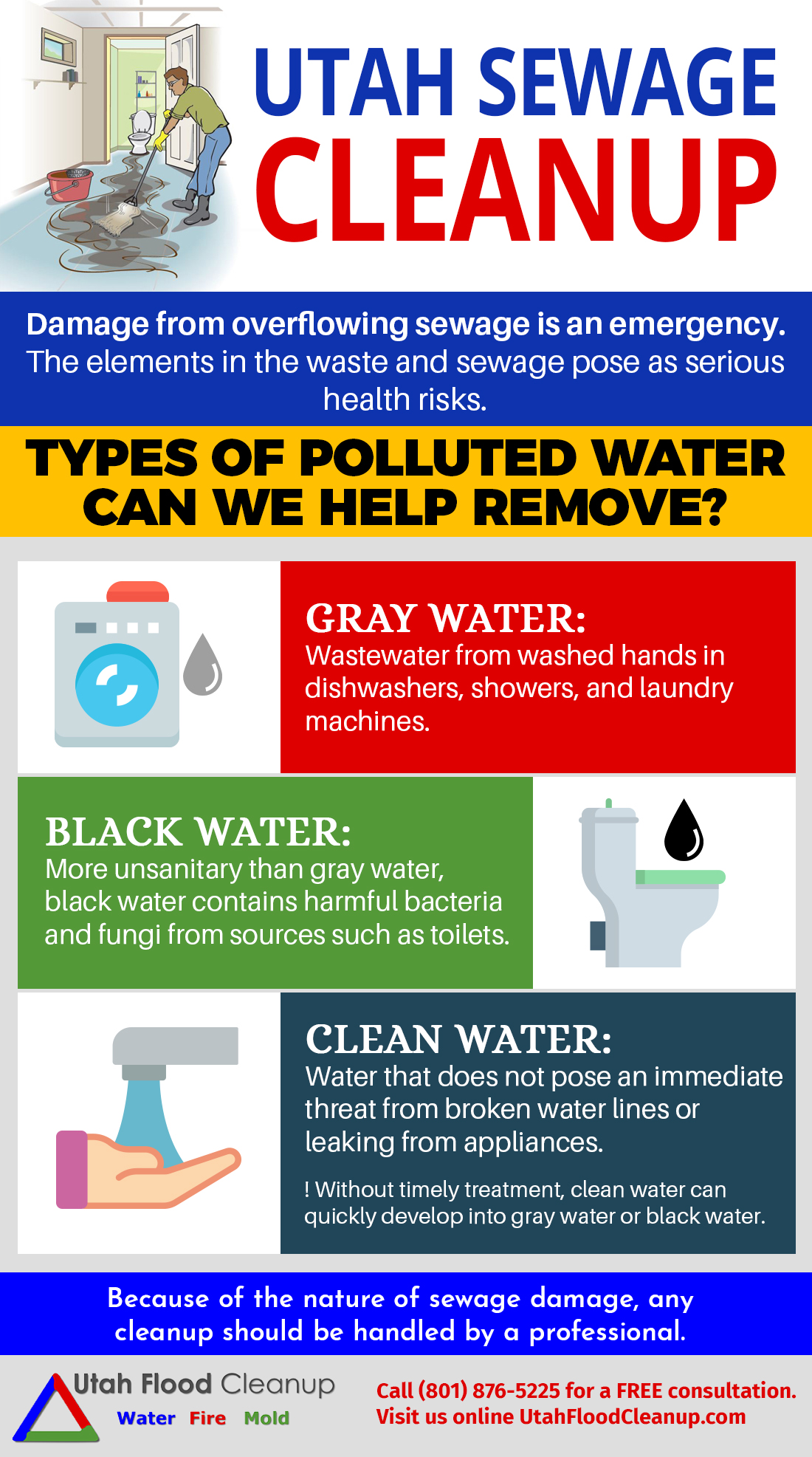 Additional damage restoration services in Utah include: